ProQuest is Celebrating a Microfilm Milestone
To commemorate the 75th anniversary, the company created a comic book that tells the story in true superhero fashion of how microfilm became the gold standard for information preservation. Eugene B. Power and the Wild Beginnings of UMI is available in print and e-book format.
Wild Beginnings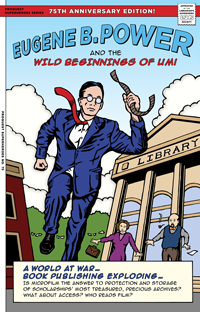 Eugene Power's fearlessness and insatiable curiosity lead to the launching of University Microfilms, Inc. (UMI) in 1938. His innovation introduced microfilm to the world as a new format for document preservation and storage. This was a pivotal milestone for libraries, enabling preservation and sharing of large document collections. For ProQuest, where Power's legacy still continues, this was the beginning of a rich heritage of unlocking essential content and a building block in our valued partnership with libraries.
Innovation is Our Superpower
We are honoring the visionaries that have supported researchers and librarians for more than a century by introducing, ProQuest's league of superheroes! When combined, this team of great innovators has the power to create a company rich in tradition with the legacy of developing industry leading technology solutions.
Get Your Copy!
Complete the form to view the comic and read the entire story of Eugene B. Power and the Wild Beginnings of UMI